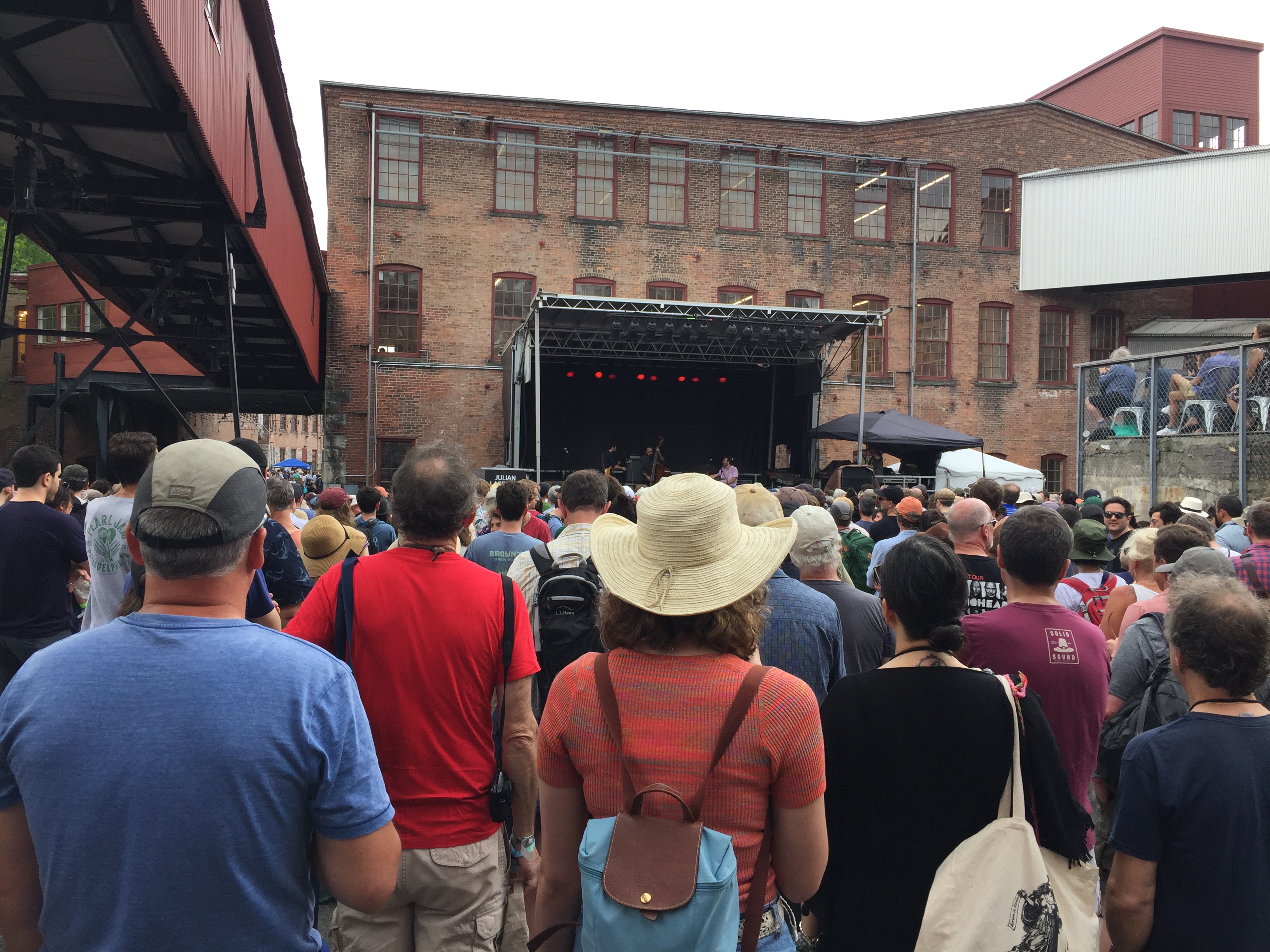 Just spent the weekend at Wilco's biennial festival, Solid Sound.  It's really cool in a lot of ways, including that it's held at the largest museum of contemporary art in the United States, MASS MoCA.  It's a huge site in the mountains of western Massachusetts, near the Vermont border.  Over a dozen large former factory buildings have been adapted and connected together, with large courtyards as well as an indoor theater.  But the real action is outside, with stages set up in the courtyards of the buildings as well as a massive field next to it (Joe's Field, really!) with a large stage and food vendors nearby.  There's even a pop-up record store, and chances to meet some of the artists.  
And there are also pop-up performances inside the museum itself!  Announcements go out via a phone app with almost no advance notice, causing a small stampede of fans to certain areas within the place.  Some are just corners of large hallways, but some are buildings the can easily handle hundreds of folks.
I got there early on Friday, before the festival actually started, as I was scheduled to check out the permanent Laurie Anderson area of the museum, with virtual reality experiences that she put together.  This was my first time with a "real" setup (HTC Vive headsets), and Laurie did a great job utilizing VR in her artsy, clever way.  The first experience put you on an airplane seat.  The airplane then slowly dissolves away, leaving one floating in the clouds.  Various objects come at you, and it's quite something to grab them and hear Laurie whispering thoughts around them.  Eventually, one looks down and gets slowly dropped to just barely above a lake.  Yikes!
Even more exciting was the second experience, where one is inside a series of rooms which appear to be inside of a cave of sorts.  All kinds of thought-provoking graffiti everywhere.  One can select walking from room to room, or eventually just fly around the spaces which are built around simple concepts (water, words, flying, etc.).  It's so crazy!  In one area, I could "spray" words on a wall.  When I hit a wall while flying around, I found myself bracing for impact instinctively, even though I knew I was really standing in a room with a headset on.  The person before me couldn't handle it, and ran out hyperventilating, but I really enjoyed it.  It's not photo-realistic, but it definitely works.
Also checked out a hall of mostly unseen photos of major rock stars through the years (that's hard to find at this point!), a section of paintings by Chrissie Hynde of the Pretenders, and even Annie Lennox had an installation.  I couldn't possibly see everything in there over the weekend.
Once the festival began, I was looking forward to checking out Courtney Barnett's set on the big stage.  I've seen her before, and she even had a short pop-up set inside that I missed but was pleasantly surprised to say hi to her afterwards.  She is so nice!  Such a clever songwriter, too.  She then rocked out on the big stage, and even came back later in Wilco's set with some thrashing, slashing guitar interplay with Wilco's lead guitarist Nels Cline.  This was one of the musical highlights of the whole weekend, for me.  Wilco sounded great; lots of energy and fun.  I always like it when they kick the show off with Random Name Generator.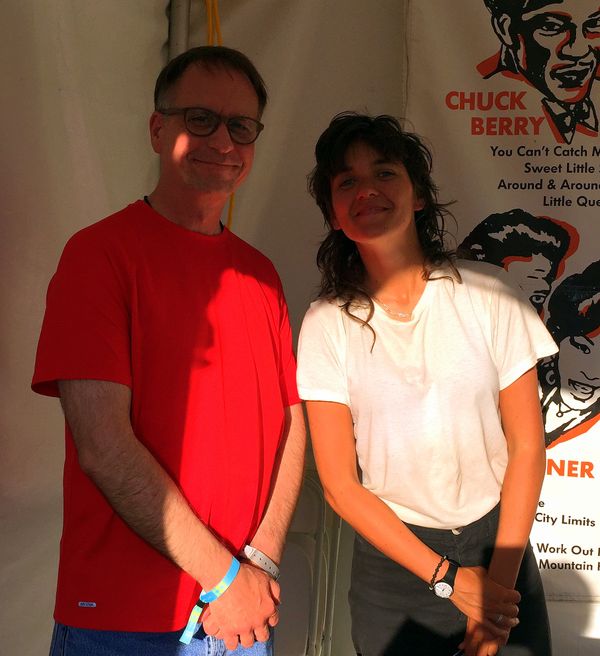 Saturday included the Julian Lage Trio, a fascinating Yuka Honda solo set inside, and Minus 5 out in the bigger courtyard.  Minus 5 not only had Scott McCaughey, but also Peter Buck & Mike Mills (from R.E.M.).  I was extremely fortunate to find myself in the backstage lounge for some of the weekend, so I got to hang out with some of the folks that were playing.  It's very chill, with kids playing next to guitars and amps.  The Grammy folks were there at a table for a charity event, there were a couple of barbers giving haircuts (I've seen this before backstage, and it's pretty funny), and lots of couches & drinks to relax.  Performers come and go, some with their families.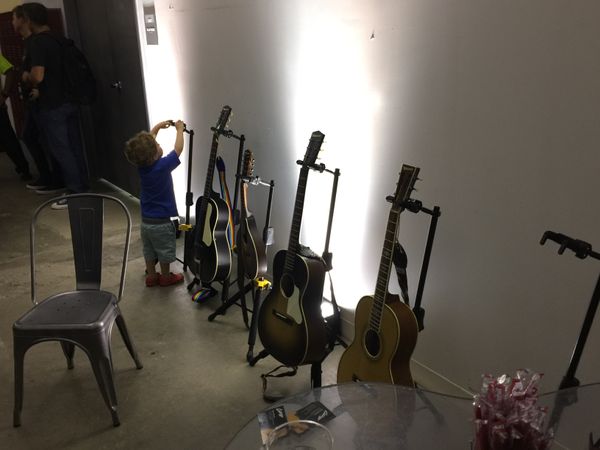 I stopped by there during the afternoon, and after turning a corner was a little star-struck when I saw Peter Buck slumped back in a couch, shades on, in full Rock Star mode, staring right at me!  So I'm trying to be cool as possible, and make my way to the drinks, where I almost run into Mike Mills.  R.E.M. was a big part of my college life, especially when they were still with I.R.S. Records, so it's really something to have one of your big guitar heroes sitting RIGHT OVER THERE.  The guys who played on classic albums like Murmur & Fables.  I played their songs in cover bands for years.
But I was cool, and left them alone.  It was really interesting to see Mike & Peter talking at times about some things, and you could tell these guys still like being around each other.  It kind of gave me a warm feeling.  Good to see.   Before I knew it, they were getting ready to go and rock out.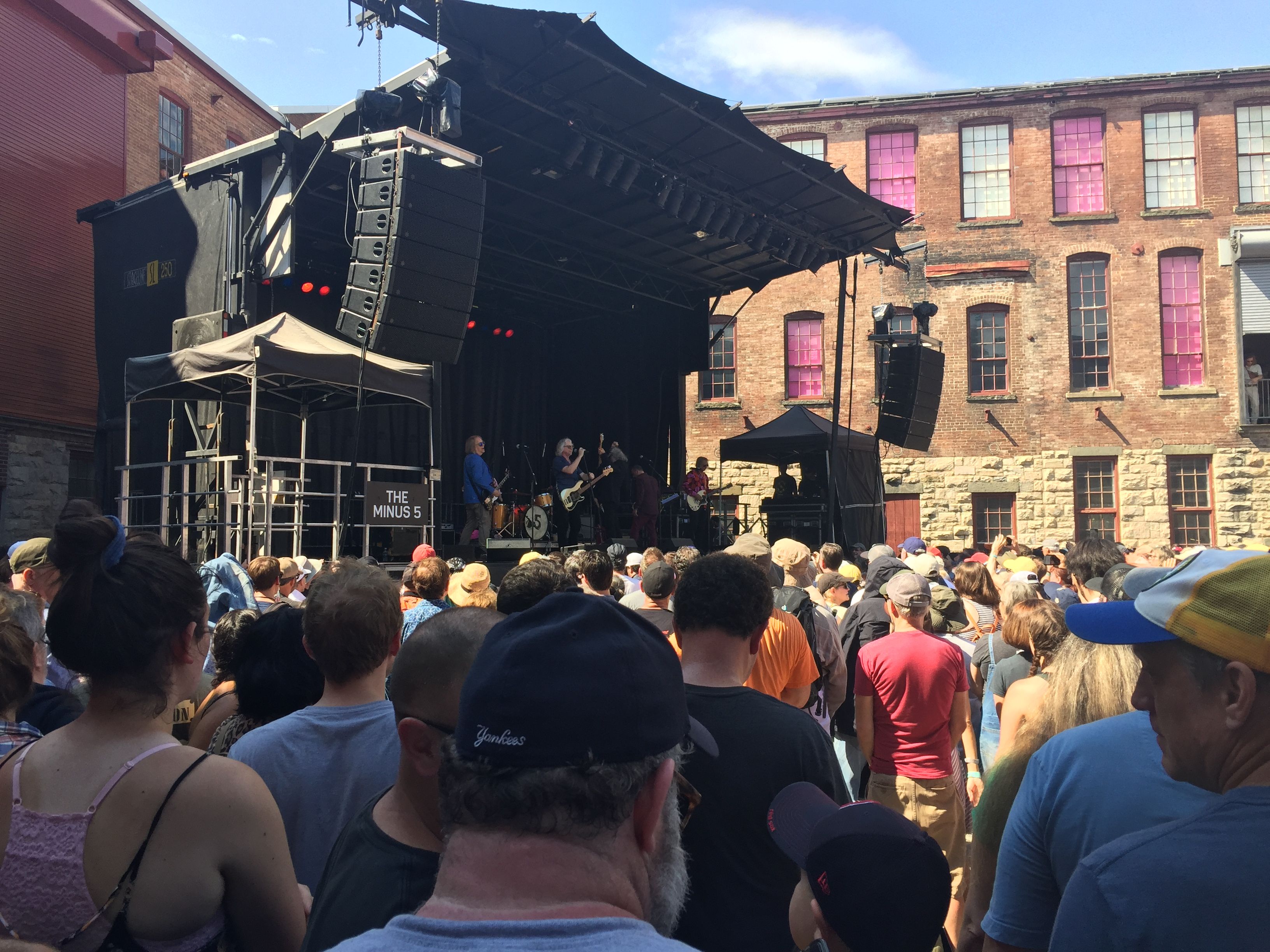 After their set, I checked out Tortoise for a while.  Jeff Parker's crew switches up instruments quite a bit, and I can't recall any other act with a full-time mallet player.  But they certainly get some great grooves going, that build up in a funky but almost orchestral way.  They also played Sunday.  Wilco then gave a somewhat subdued set, but also included some new songs.  A lot of unusual song choices, deep cuts, as well as the bigger hits.  
Sunday was suitably bizarre, with the usually excellent coffee shop inside running out of food and a massive thunderstorm moving everything inside.  Nels Cline & Julian Lage played along to some very unusual art films in the theater.  Those two are always amazing to watch, as they seem to be of one mind at times.  Even when it's just two guitars & no effects, it's mesmerizing.
Later on, a really interesting set moved indoors with CUP (Nels Cline and his wife Yuka Honda). 
Then checking out more art (the Sol LeWitt exhibition there has some later pieces that are so huge they go down a hallway; there's nothing like seeing these in person), and Jeff Tweedy closing out the festival with his family & friends.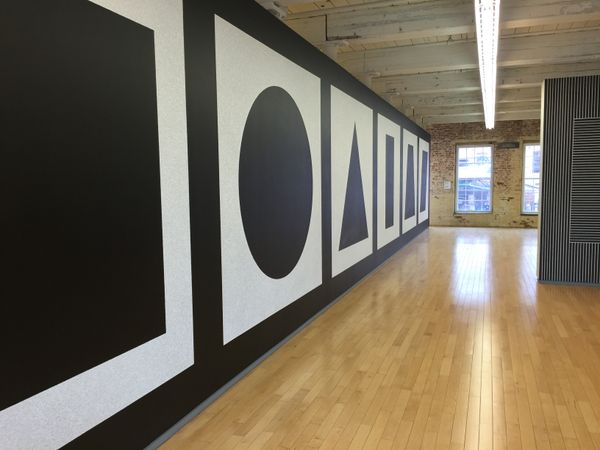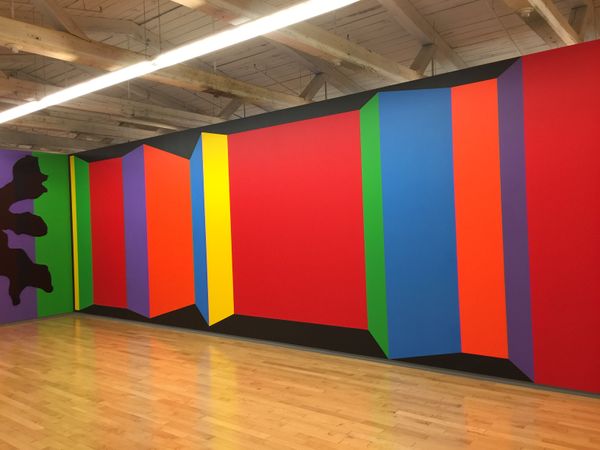 By that point, I was completely exhausted and despite some invites to continue the party elsewhere I went back to my cabin across town and crashed.  My feet, legs and knees were in pain for days afterwards from all of the walking and standing around, but it was certainly worth it.  I can't thank the band and everybody enough for a truly great creative recharge!
I could go on more about Solid Sound and MASS MoCA, but suffice to say I don't do many festivals.  It was really nice to take a break from creating, playing, planning and working on my stuff and just take it all in.  It's almost like a family reunion as well as an art/rock festival.  A very unique event, and one that really distills the essence of what the band Wilco is about.