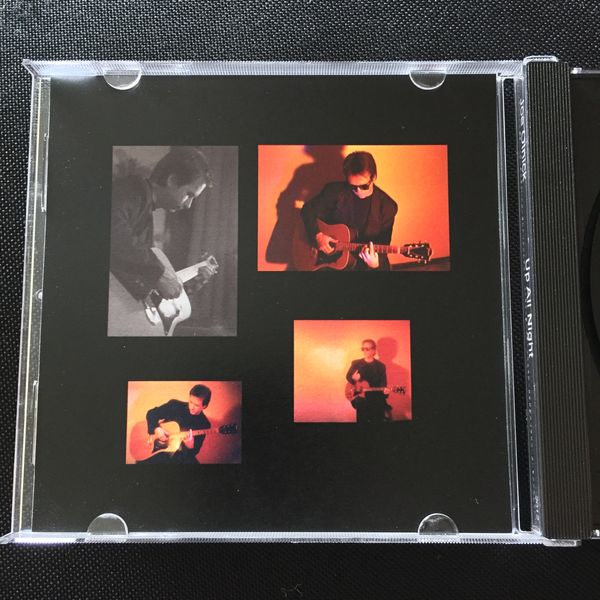 Some background on my albums so far:
The one that started it all! Began working on it around 1998, it consists of basic tracks I recorded with drummer Chris Loser in one afternoon and then I overdubbed/mixed it all myself. Learned a lot on the way, since it took almost all my free time for about a year. The album was actually done on a Roland VS-1680 hard disk/mixer, which had automation but I could never figure it out, so all mixes were done "live" in one pass.  Sounds surprisingly good even today, so I guess all of the time & effort shows. Very jammy. 

I was originally thinking of just doing some slinky jams in the style of Jerry Garcia & The Grateful Dead, but it took on a bit of its own swampy/funky/jazzy character. Used my first-ever guitar, the old Gibson Paul from high school, into a Fender Hot Rod amp. I always called this my 'wah' album, because of the extensive use of the Cry Baby wah-wah pedal.
It came out in 1999 (started the web site here to promote it), and the album sold well on the old, original mp3.com website! The song "Beach House" apparently got picked up for use on a car commercial, although I've never seen it; I was getting divorced at the time and had no TV since I was starting over. But the royalty checks started coming in, and kept coming in for years, so it must have been quite a campaign! Never did find out who used it. "Beach House" also hit the Top 20 on mp3.com.
I remastered this around 2012, and expanded it by adding a few tracks (including "Dire") that came from the now out-of-print follow-up, Deadweight Scatterfish. The session & process were the same as on the first album, including basic tracks with Chris Loser on the drums. Unfortunately, some of the original master tracks were lost for that album over time, but at least I was able to find a few, so I thought it would be cool to add them in to this edition. 
"Dire" also was a hit on the mp3.com charts! It was a big deal at the time, as online music was really just starting out.
All in all, though, I'm really proud of this one. Especially for a debut.  
After getting the remastered Up All Night album online proper, I started to get some good response to it. Not only here in the states, but overseas as well. I had been playing out a lot in cover bands for a while, which was fun, but I wanted to get back to working on more original material to put out as a solo artist. 
This album starts with "Funky Buildings" and then morphs into quite an ambient, almost classical space. The general idea was to try and create a hybrid between some Pink Floyd-like grooves into something more like Brian Eno's ambient pieces. Certainly an adventurous experiment! 
I recall the third piece, "Tall Buildings", taking a long time to get just right. It started out as just a few harmonics on the Martin acoustic guitar, which were then edited and looped/layered. More keyboards and atmospherics were blended in to build it up slowly, much as when one goes up higher & higher in a skyscraper.
The original concepts came out of inspiration I got attending my friend Stew Bradley's painting exhibition debuting a series of very bright paintings that were mostly about buildings. We had been in a cover band previously, and he plays the drums on "Funky Buildings". His paintings were also prominently featured on the cover as well as the videos.

A lot of folks have commented on the titles for all of the pieces being about buildings. I'm very happy with the purity of the artistry here, staying true to the original concepts despite the whole thing taking longer than I was planning on when I started work on it. Marketed as "New Directions In Ambient Music", it did ok.  "Bright Buildings" got played on WXPN's Star's End show!  That was really cool, and I'm very grateful for the airplay.
While I was working on Bright Paintings, I was invited to be part of a night of experimental improvised music at The Candy Factory in Lancaster, PA, which was a lot of fun. I mentioned to the promoter that I was working on a solo album and wanted to do a release party with a performance, and shortly afterwards a date was set for later in the year. That performance ended up becoming this album! I was able to work with the live recording off of the house sound console, and even sync it up with some video cameras that I set up to create the live video (which also taught me a lot about video editing).
The show was quite a success, with quite a crowd, as the video shows.  It was almost full in there, and they were receptive to some unusual music. Also helping was having the ambient legend George Wallace open up the show, who was great as usual. This was also the public debut of the Joe Olnick Band, with Stew Bradley & Jamie Aston. It was completely improvised for the most part, since some critical equipment for looping died on me at the end of the rehearsal we had a few days earlier. The song "Practice Space" actually was live in the studio in rehearsal, and the equipment failed near the end, which I edited out.
So we just had to roll with what happened, and improvise this one in front of everybody! Which is what the venue had been doing a lot of around that time with various groups of musicians. The show was a blast and worked out well, despite being one big build in E for half an hour. I got to debut the drill, the spring, and a lot of other techniques that I was seeing up in NYC around then in the modern jazz scene there. We also gave away a lot of door prizes at the end, including an original painting by Stew.
While putting out Live At The Candy Factory, I got an offer to do an ambient performance at the Lancaster Public Library, in the art gallery upstairs!  And the live recording of that became this album. It was a little nerve-racking doing a completely solo improvised show, but I used multiple loopers and effects to create a big sound that played off of the crowd that was coming through to check out the art exhibit. I love doing these installation-type shows. It's very Brian Eno-like.
The recording itself is actually two Sennheiser MD-421 mics, one on each guitar amp, set left & right. No real effects added later, and just basic mastering, so the sonic soundscapes with all of the effects were created and processed live!
The title came about because I was trying to provide some atmosphere for the event, which led to the sections being named after meteorological phenomena.  If one goes up high enough, they eventually get to free atmosphere, which is unaffected by the surface of the planet. I always liked the NASA photo from the Space Shuttle used for the cover, too.

And with that, I ended up putting out not one, not two, but THREE albums in one year!  As well as my first solo shows, with videos.  That was one busy year! 
After putting out three ambient-ish albums, the next year seemed like a good time to get back to the band sound. I like to keep things fun over the years by bouncing back and forth between solo ambient and the jam/funk/jazz thing with the band, to keep it fresh. For this project, I spent another afternoon putting down some basic tracks with Chris Loser on drums at his place again, and then overdubbed everything else and mixed it back at my place. It was also the first time I had an album mastered by the award-winning folks at Lurssen Mastering in Hollywood, CA, and that took things up a notch in quality as well.

While working on the tracks, I had been listening to a lot of Medeski, Martin & Wood and wanted to add some B3 organ touches. But those sounds actually ended up coming from a guitar running through a pedal to make it sound like an organ, which turned out great. There's actually no keyboards at all.

This album also took a while, but it was obvious as I was working on the first track, "Funky Traffic", that it was going to be a special one. Indeed, that song ended up being played by WXPN in Philadelphia a bunch of times, including during the afternoon one day before the World Cafe show. This was a big, big deal. I was getting a lot of people telling me about it! 
That song ended up hitting the U.S. college radio charts, which was a huge thrill as well. For somebody like me, who wasn't in their 20's, putting out original instrumental stuff in a town that wasn't a major music city, to be getting airplay around the country on college radio and then overseas as well as hitting the charts here? Seems hard to believe. But it's all true, and things were getting crazy. I couldn't believe it. What an exciting time.

Getting back to the album, the second song "Glendale Avenue" was built around a riff that I always warmed up on when I was learning to play guitar back in high school. Glendale Avenue was the street that we lived on back then.
I recall getting the backwards guitar right in "Backwards Blues" taking a while. Also, "Thunderpaws" was named after a very funny cat who liked to run through a friend's house like a maniac for no reason occasionally. The title of the album came to me during a Wilco concert I was attending around that time, for some reason. 
After putting out the previous album, and all of the success that came with it, you better believe I was going to put out another album with the band!  For this one, I took some pieces I was working on into a proper studio (Right Coast) with Jamie Aston on bass and Jamie Smucker on drums, for the initial recording session. Then I took the  basic tracks back to my place and overdubbed/edited/mixed it for about half a year.

This one also has the organ pedal in some areas, as well as the shimmer pedal. Also debuting was the rare Gibson Double Cut Les Paul, a gorgeous guitar. 

The title track for this album also hit the U.S. college radio charts, and once again we were getting airplay on college radio here and there around the country and overseas as well!  I was just amazed, and very grateful.
Around this time, our band was supposed to open up for another band at the prestigious World Cafe Live in Philadelphia. The original headliner had to cancel a few days before the show, but I managed to ask them and the venue if we could do the show ourselves, since it was a last-minute change in plans.  They agreed, and we ended up playing the upstairs stage!  This was a HUGE honor to play there, and I can't thank everybody involved enough to fulfill my dream of playing such a legendary place that a lot of big names have performed at. 
The live recording & videos came out ok. The track "Philadelphia Moonlight, Part One" is built around a riff that just suddenly showed up while improvising at the World Cafe Live show. I saw moonlight out the window and started this riff.  And the spacey interlude that became "Philadelphia Moonlight, Part Two" is the actual live performance from that show in Philly. I was really glad that I could get part of that show's recording into the album itself.
The album really captures the vibe of the band at the time, and all of the MMW & Miles Davis-inspired feel that I was trying to go for in this release. It was all about city life, as I was spending a lot of time in both NYC and Philadelphia around then.
Iguana

While working at some rehearsals, an idea from Jamie Aston took on a life of its own, and an album concept just appeared to me, fully-formed, about an iguana named Don that was a bit of an outsider looking in. He meets a lot of resistance from the world, but overcomes it and finally gets what he wants at the end. Kind of a rock opera without singing, like our band's Tommy. The concept carried over to the cover, which was done in a Marvel comic vein by a talented local artist who does his own underground comics, Ron Good.

Again we spent an afternoon in the studio putting down the basic tracks as a band, this time with Stew Bradley on the drums as well as Jamie Aston on the bass. It was the first time they heard the pieces, and the first takes usually were what we went with. I knew as soon as we did the first track, "Sticky Floor Nightclub", that it would probably be the big single from the CD, and I was really pleased with how it went from a Talking Heads-sort of vibe into more of a Pink Floyd vibe by the end. Always fun to put elements together and see what happens like that.  
The second track, "Don's Theme" was thought of as the theme that would play when the main protagonist enters the scene. It needed to be kind of sad and introspective, just like what the character was experiencing. The track ended up being very powerful emotionally, to the point where I had a bit of a stressful time finishing it. I was very glad how it  finally turned out, but it took a lot out of me. Folks seemed to respond to the emotion in it, though.
I was also really proud of how the live shows & promo videos both for this album and the shows went down. Despite the work involved in putting these on and getting the videos out, they turned out to be the best live videos we've put out yet. I love the look, the vibrant colors, the interspersed live video projected behind the band as well as the official videos, and especially Ralph Diekemper on the keyboards! He really added a lot to the live shows, great playing & sounds. Glad we got that captured well.
For the five year anniversary of when I put out three ambient albums in one year, it only seemed right to celebrate with an ambient release. I started taking elements of those albums and playing around with them in the studio. Weeks of experimenting with slowing them down, reversing them, and processing them through new software such as FFT processors and other new ways of mangling audio eventually led to a new concept: very short pieces from the Bright Buildings album that became completely new compositions with a totally different atmosphere! Once I found the right pieces, the right processing, through a lot of trial and error, the whole project fell together very quickly. I hadn't made a true ambient album like this for a few years, and it was a really nice change as an artist.

Keeping with that classic ambient vibe, I was lucky to get the legendary Robert Rich himself to master this, and he took it up a notch in quality!  Again, a dream come true to have somebody that I have listened to for decades to put his magic into the sound. I've been front row to many of his shows over the years, and here I was talking audio concepts and bouncing ideas off of him. He did a fantastic job, and was a pleasure to work with.
Also noteworthy was that this produced my most popular video, using a very condensed edit of the album set to some cool photos, which was unexpected. But I was really surprised at how well this did overseas. To get confirmation that folks in Australia, Japan, Ukraine, Israel, India, UK, Germany, Russia, Spain, and how many other places, have heard this and were trying to find out who it was is just the best feeling ever.
The pandemic really put things on hold, but of course when the chance came to finally get back together we started doing some jam sessions. This time we had the mysterious Chap Sinclair on drums with Jamie on bass, and a lot of these sessions were in a couple of private locations usually at night, sometimes in a downtown city setting. Hence, the late-night hipsters that we would encounter and that general vibe that got into the sessions.

I started recording these experiments with a portable TASCAM recording device, running the bass / guitar right into it, with no other mics.  Really basic, but one of the compositions turned out so well that I decided to put it out as a single, and also do a King Tubby-style dub remix, trying to do a take on the dub master's studio tricks.
This isn't an album, but the band's first standalone digital "single" with a dub version. I like the promotional CD cover, with the inside artwork and the general modern nightlife vibe that this project was about.

I'm very grateful for all of the support from my family & friends, and especially everybody that's getting into the music, and checking out the videos. This creative endeavor has been way more successful than I ever expected, and I'm glad it's turned out this well. It makes all of the work creating this art worth it, to catch somebody's ear. I am so thankful!